The American Quarter Horse is an American breed of horse that excels at sprinting short distances. Its name came from its ability to outdistance other horse breeds in races of a quarter mile or less; some have been clocked at speeds up to 55 mph (88.5 km/h).The American Quarter Horse is the most popular breed in the United States t...
Read Full Post »
BioEquine horse feed supplement is unique because the nutritional formula of BioEquine cleans the gut of debris and parasites and prepares it to utilize the medicinal quality, balanced and buffered vitamins and minerals PLUS concentrated micro-encapsulated stabilized probiotics. Your horse is provided all this in a small 1 ounce (30 mg) daily dose. There are no added sugars, protein, drugs, herbal preparations or inert fillers. BioEquine can be fed as a top dressing or mixed wi...
Read Full Post »
Q.
Recently I've been helping a friend with her pony, working him on the lunge to bring him back to work and make him more flexible in his neck. The pony is a AA-German Pony cross, he's got a rather long back and very strong minded, yet in about three months he has improved a lot and I can get him trotting, cantering and even doing canter-walk transitions on the lunge with just voice cues.
Read Full Post »
Q.
wondering if you can suggest some exercises to help develop the counter canter which we are starting to work on after several years of working on the basics of straightness, contact etc. The canter to the left has taken some work to get going forwards, straight and to try and prevent falling in through the left shoulder. The canter to the right has been much better, easy and more rhythmical. However the counter canter on the left leg ie to the right is more easy for my...
Read Full Post »
Q.  
Help needed please. My warmblood gelding has had his main pulled a couple of times since I bought him 6 months ago now. He has been fine until today when he was not having any of it. He is always double tied and stands beautifully for everything but today he would not let us pull his main. He was throwing his head up and trying to turn his back legs on us as we struggled to tidy up his thick main. I was hoping that he would calm down as the...
Read Full Post »
Q. My sister's 4 year old Warmblood gelding is very strong in hand and pushy. He will drag you off to places (mostly when he sees food) and sometimes he will nip (playfully) you when being lead.
My friend has suggested a chain shank and jolt him whenever he is misbehaving.
What would you suggest?
Read Full Post »
Bearing-Rein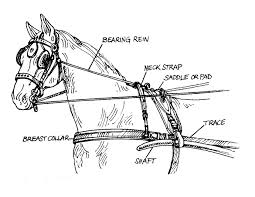 The use of the bearing-rein is widely condemned by many people who do not recognise the undeniable fact that there are some horses which it would be difficult, if not unsafe, to drive without some such assistance as it suppl...
Read Full Post »
Collected walk
on the bit, moves forward, neck raised and arched, head approaches vertical, light contact, shorter steps
Extended walk
hind feet touch groun...
Read Full Post »
The Anatomy Of A Horses Hoof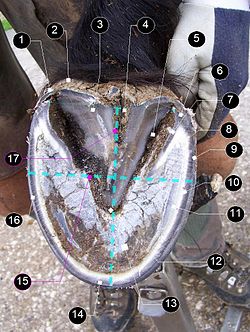 Transitioning barefoot hoof, from below. Details: heel perioplium (1), bulb (2), frog (3), central groove (4), collateral groove (5), heel (6), bar (7), seat of corn (pigmented walls) (external layer) (9), water line (inner layer) (10), white line (11), apex of fro...
Read Full Post »
Dewormers
If you choose to deworm your horse orally  follow this deworming schedule to gain the best parasite protection for your horse or horses. Remeber its best to deworm all the horses at the same time to keep from recontamination.
Tapeworms, bots, flies, roundworms, and many other parasites love to make their home in your horse's digestive tract. Generally a hors...
Read Full Post »