10 Interesting Facts About Arabian Horses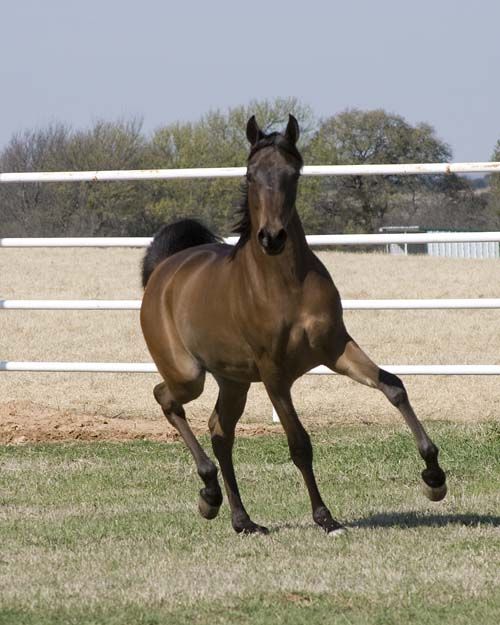 Arabians are a very popular breed of horse for many equestrians. Many people ride Arabians for show, pleasure and competition. The physical characteristics of the Arabian breed include a dish face, large, wide-set eyes, broad forehead, small, curved ears and large nostrils. Here are ten interesting facts about Arabian horses that you may not know.
1.) The Arabian breed is over 5,000 years old and is known as the oldest breed and the first domesticated breed of horse.
2.) Arabians were originally bred in the Middle East.
3.) Arabians were bred by the Bedouins, a desert tribe in the Arabian Peninsula. This tribe used them as war horses because they could travel far distances in harsh desert conditions due to their large lung capacity and incredible endurance.
4.) A Virginian, Nathan Harrison, imported the first Arabian stallion to North America in 1725.
5.) An Arabian was the horse of choice for Napoleon, Genghis Khan, Alexander the Great and President George Washington. Napoleon's horse was named Marengo and George Washington's mount was called Blueskin.
6.) All Arabian horses have black skin underneath their coats, except underneath any white hair. When these horses lived in the desert, the black skin would help to protect them from the hot sun.
7.) The most common coat color of Arabians is bay. You will also see many chestnuts, grey, blacks and roans.
8.) The skeleton of a pure Arabian is different from that of other horse breeds. An Arabian has 17 pairs of ribs, instead of 18 and 5 vertebrae instead of 6.
9.) The average height of an Arabian is 14.1 to 15.1 hands (57 to 61 inches) tall and the average weight is 850 to 1,000 pounds.
10.) The horse in the movie "The Black Stallion" was an Arabian stallion named Cass Ole.
Categories: Breeds Of Horses